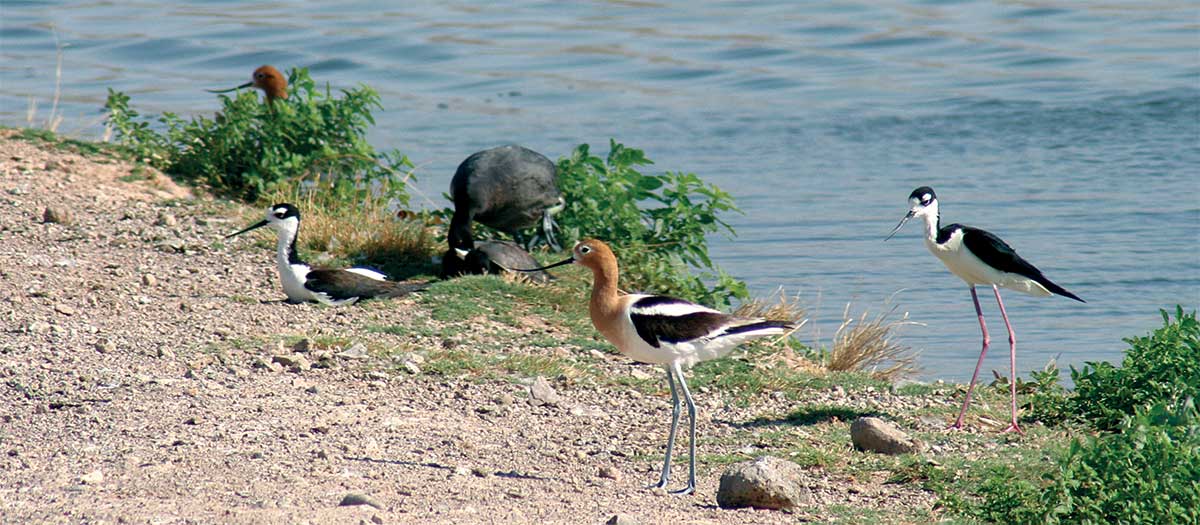 Nearly 300 bird species have been inventoried at the Las Vegas Wash since 1998 through surveys conducted by biologists and the cataloging of rare species detected by expert birders, providing a better understanding of the species that use the Wash and how the bird community changed in response tothe stabilization and enhancement program. Early work created a baseline and later efforts have documented the changes over time and supported objectives and actions in the Las Vegas Wash Wildlife Management Plan.
A bird census was conducted from 2000 through 2006 with the Red Rock Audubon Society. Surveys were conducted prior to, during, and after construction of the Bostick Weir. Volunteers and project staff recorded a total of 140 species. Species richness – the number of different species detected – declined during construction and then increased beyond what was originally observed after construction was completed and the site revegetated with native species. Biologists also conducted monthly aquatic bird counts at weir sites along the Wash and at off-channel wetland sites in Clark County Wetlands Park, documenting the numbers of individuals and species observed. Field crews identified a total of 80 aquatic bird species across all sites between 2009 and 2016.
As for ongoing surveys, an avian point count study has been conducted most years since 2005. In this study, biologists conduct biweekly counts of birds year-round at approximately 30 points spread throughout a variety of habitats along the Wash. These counts have identified more than 240 species, as well as significant increases in the richness and abundance of birds. These increases are especially notable in birds that rely on aquatic habitats, including waterfowl species like the gadwall and American wigeon.
Federally threatened and endangered birds
Other ongoing efforts involve annual breeding season surveys for three federally threatened and endangered bird species: Yuma Ridgway's rail (Rallus obsoletus yumanensis), southwestern willow flycatcher (Empidonax traillii extimus), and yellow-billed cuckoo (Coccyzus americanus).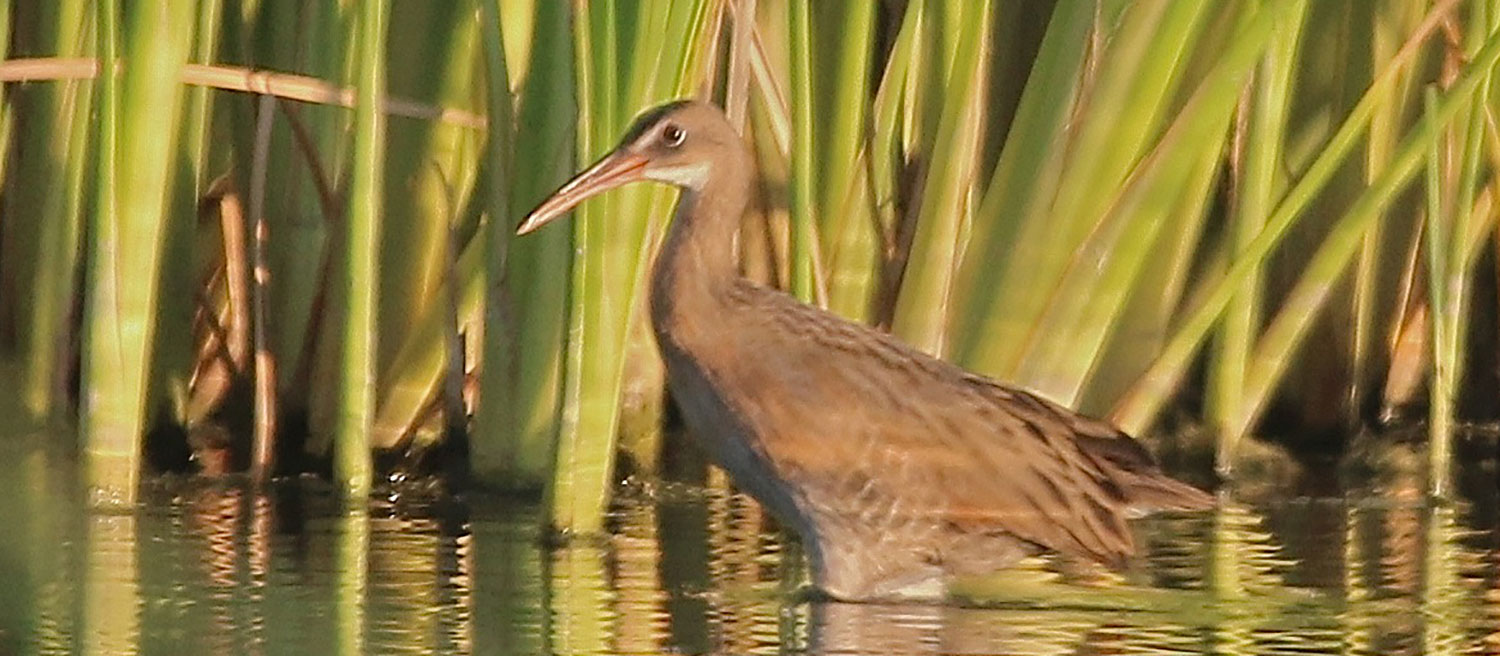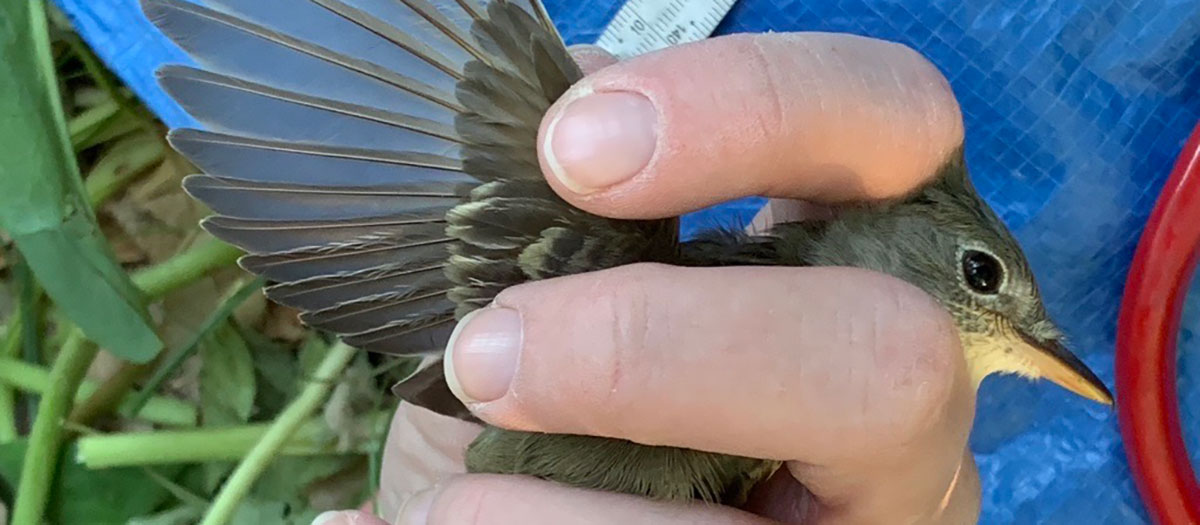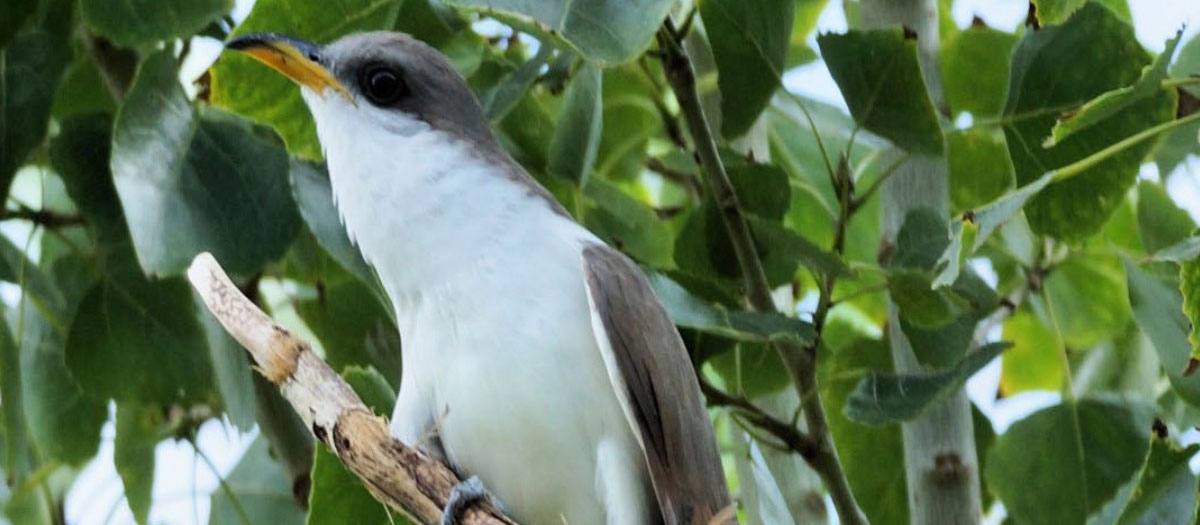 Yuma Ridgway's rail
Targeted surveys for the endangered Yuma Ridgway's rail, which nests in emergent wetlands, have been conducted along the Wash since 2000. In 2008, these surveys transitioned to secretive marsh bird surveys targeting six species, including American bittern, least bittern, black rail, Virginia rail, and sora, as well as the Ridgway's rail. The surveys are conducted in April and May. The Yuma Ridgway's rail had rarely been identified along the Wash, with detections of lone individuals occurring in 1998, 2005-2006, 2015-2017 and 2020. In 2021, five individuals were detected at sites.
Southwestern willow flycatcher
Biologists have conducted surveys for the endangered southwestern willow flycatcher in riparian habitat along the Wash since 1998. These surveys typically run from mid-May into July. Field crews record migrant willow flycatchers nearly every year, but residents of the endangered southwestern subspecies have only been identified in a few years. In 2008, 2013 and 2021, a male southwestern willow flycatcher established a breeding territory. Although in each instance, the bird apparently failed to attract a mate and reproduce, these detections marked major milestones for the Wash program. Each bird was captured and color-banded by permitted staff from SWCA Environmental Consultants, allowing for visual identification should the bird appear again in the future, whether at the Wash or a different site. In fact, the 2008 bird was re-sighted by SWCA in 2019 at a breeding location approximately 200 miles away in Arizona, tying the record for oldest known southwestern willow flycatcher.
Yellow-billed cuckoo
The yellow-billed cuckoo is federally listed as threatened, and cuckoo surveys have been conducted in riparian and mesquite habitats every summer since 2013. Field crews have identified the species in most years, typically concluding that detections represent a possible or probable breeding territory or the occasional migrant.
While major construction along the Wash is now complete, bird monitoring will continue in support of the Las Vegas Wash Wildlife Management Plan. Weir maintenance may lead to reduced marsh and riparian vegetation at some locations, while other revegetation sites will continue to mature, leading to changes in cover and structure. Continued bird monitoring will determine any impacts this has on the avian community of the Wash.