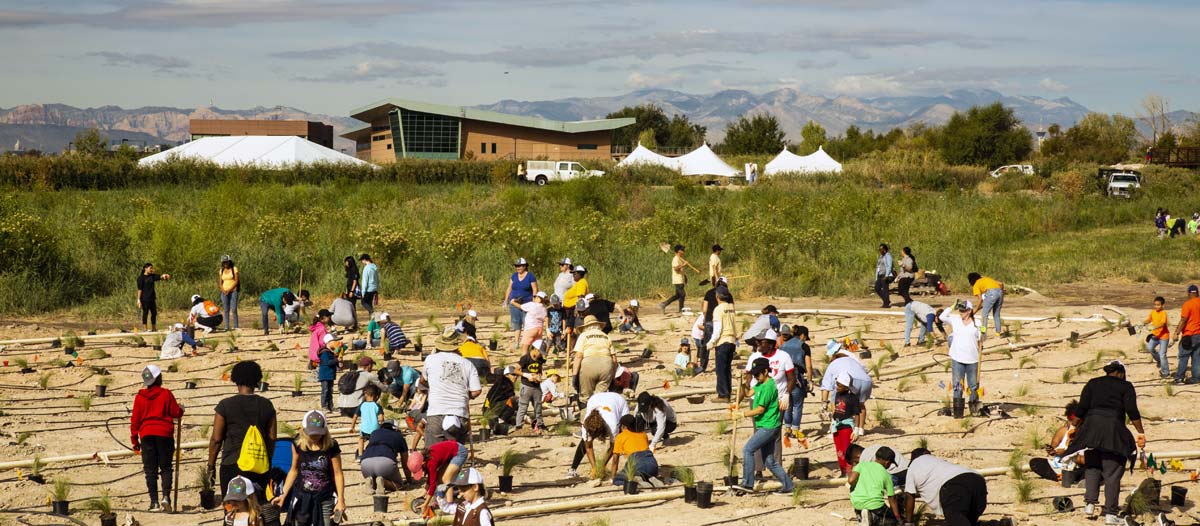 Get Involved
Public involvement is a huge part of the success of the Las Vegas Wash Coordination Committee's efforts. Over the years, thousands of volunteers have attended our events, removing 500,000 pounds of trash and planting more than 100,000 trees, shrubs and grasses. These efforts improve habitat, enhance the attractiveness of the area and help stabilize the Wash's banks.
Learn how you can help the Las Vegas Wash by preventing pollution, volunteering for a planting event, or using water-efficient landscaping.
With just four inches of rainfall in the Las Vegas Valley each year, water is a limited and precious resource. Because of this, Southern Nevada has adopted a responsible water conservation/efficiency strategy to ensure the region has enough water to meet its needs. Our community's success depends largely on the efforts of homeowners and business owners to reduce water waste.
The Las Vegas Wash Coordination Committee supports these conservation efforts. Responsible water use in the valley assists in meeting the long-term goals of managing the Wash. Reducing outdoor water use reduces runoff. Since urban runoff enters the channel untreated, this decreases contaminants entering the Wash and Lake Mead.
For more information, visit the Southern Nevada Water Authority or contact the Conservation Helpline at 702-258-SAVE to see what you can do to conserve.
Since April 2001, the Las Vegas Wash Coordination Committee has organized the Wash Green-Up volunteer planting events each spring and fall. Thanks to funding from the Nevada Division of Environmental Protection, Wash Green-Ups are part of an ongoing effort to protect and enhance ecosystems along the Las Vegas Wash and increase community awareness and stewardship.
Thousands of participants have volunteered at Wash Green-Ups, revegetating hundreds of acres with more than 100,000 native plants. These events have brought together local citizens, Boy Scouts, Girl Scouts, high schools, fraternities, sororities, church groups, casino groups and other civic-minded entities and individuals.
The efforts of these volunteers have created much-needed habitat for wildlife and have helped stabilize the Wash's banks, reducing erosion and improving water quality. Some of the plants used in Wash Green-Ups are grown in a greenhouse located at the Warm Springs Natural Area, owned and operated by the Southern Nevada Water Authority. Not only does this provide cost savings, using local seeds combined with a more sporadic water schedule than a typical nursery enables project managers to increase the plant quality as well as customize them for life at the Las Vegas Wash.
Register for the next Wash Green-Up event.
You also may consider participating in the Wetlands: Hands On! program at the Clark County Wetlands Park.
Each year, World Wetlands Day is celebrated on or around Feb. 2, marking the date of the adoption of the Convention on Wetlands in 1971 in Ramsar, Iran, on the shores of the Caspian Sea.
In 1997, government agencies, non-governmental organizations, and groups of citizens at all levels of the community around the world took advantage of the opportunity to undertake actions aimed at raising public awareness of wetland values and benefits. Approximately 100 countries participate each year.
Whether or not you live near them, the wetlands along the Las Vegas Wash provide many benefits to our community. The wetlands allow sediment to settle out as water moves through the system, providing habitat for a diverse community of microorganisms that break down organic and inorganic pollutants. Wetland vegetation works as a filter, taking up nutrients and other potential contaminants from the water as it flows to Lake Mead.
Given these benefits, the Las Vegas Wash Coordination Committee (LVWCC) has invested substantial time and effort in the enhancement of wetlands along the Wash. To bring more attention to the importance of wetlands to our community, the LVWCC has been working with area schools under a variety of formats over the last 10 years. The current format includes a two-day symposium, targeting high school science students hosted at the Clark County Wetlands Park where they spend the morning in presentations by research professionals that work closely with wetlands, and their afternoon conducting nature walks and participating in a revegetation project.
World Migratory Bird Day has been celebrated across the Americas for more than two decades, bringing awareness to the impressive event that is bird migration. Migration takes many shapes and sizes, with some species simply migrating upslope from valley bottoms to mountain tops to nest and others migrating thousands of miles between their overwintering and breeding grounds.
In becoming more aware of bird migration, people also learn the importance of habitat conservation, of making sure birds have high-quality habitat at stopover sites to rest and refuel and at their final destinations.
World Migratory Bird Day is celebrated in the spring in North America, as birds make their way to nesting grounds, and in the fall in Central and South America, as they journey to overwintering locations.